Baldersdale Catering
Baldersdale Catering can produce and deliver everything you need for an enjoyable eating experience at your chosen Teesdale venue.
We pride ourselves in delivering delicious dales food as well as excellent service. Our traditional and unusual dishes are created from local produce.
Whatever your event or need, give us a call as we can cater for everything from Weddings to Parties and Business buffets.
For tourists visiting the area, home fayre can be delivered to your self catering cottages or caravans.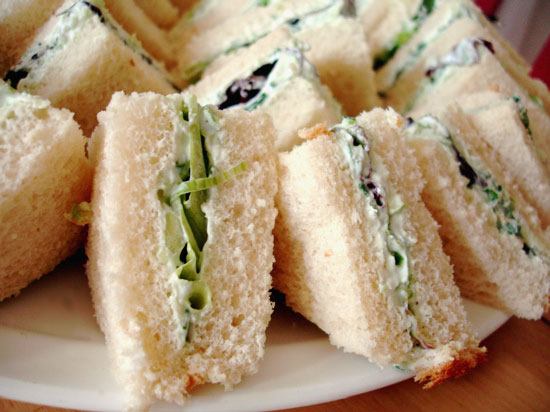 Signature Dishes
SOUP AND SEVENS
This is a light lunch, created along a theme of sevens. Suitable for vegetarians, the first course contains seven vegetables in a home made soup, followed by a selection of seven sandwiches and seven fresh fruits.
Homemade Soup Served with fresh warm rolls & butter
Seven Varieties of Sandwiches Egg & Cress, Brie & Grape, Fresh Salmon, Ham & Peas Pudding, Chicken & Mango, Smoked Salmon & Cream Cheese, Roast Beef & Horseradish (Other varieties available on request)
Seven Refreshing Fruits Melon, Bananas, Pears, Strawberries, Apples, Oranges, Grapes
Assorted teas, coffee and orange juice
Party Platters
Main Dishes Turkey Breast Stuffed with Orange, Sage & Thyme; Baked Ham with Honey & Treacle Crust; Fresh Dressed Salmon; Honey & Mustard Glazed Sausages; Gala Pork Pie; Proper Egg & Bacon Flan; Cheese & Tomato Flan
Seasonal Salads Mango, Melon & Cucumber Salad; Wild Rice & Pepper; Beetroot & Blackcurrant Ring; Potato Salad with Chive Cream; Special Coleslaw with Pineapple; Selection of leaves with Dressings. Assorted bread rolls with butters.
Sweet Endings Kiwi Cheesecake, Baldersdale Apple Tart, Chocolate and Chestnut Tart, Stacked Meringues with Chantilly Cream, Cotherstone Cheese & Biscuits
Big Buffet
A table of moreish platters for every occasion.
Savouries Broccoli & Cheese Flans, Egg & Bacon Flans, Sausage Rolls, Pork Pies, Corned Beef & Potato Pie, Prawn Vol-au-Vents, Mushroom Vol-au-Vents, Sausages with Honey Mustard, Kettle Crisps, Baked Chicken Breast Bites with Smokey Bacon
Sandwiches Ham & Peas Pudding, Smoked Salmon & Cream Cheese, Brie & Grape, Fresh Salmon, Cheddar & Pickle
Sweet Endings Lemon Cheese Cake, Baldersdale Apple Flan, Fresh Fruit Basket, Coffee, assorted Teas, Orange Juice can be supplied.
Other Services
Other menus are available and can be tailored to your requirements, these include vegetarian and gluten free dishes.
The supply and removal of crockery, cutlery, glasses, tablecloths, napkins and flowers can be provided if required.
Contact Rosemary Thompson on 01833 650414
If certain ingredients cannot be obtained, we reserve the right to change the menu by supplying an alternative. We will of course let you know in advance of this change.